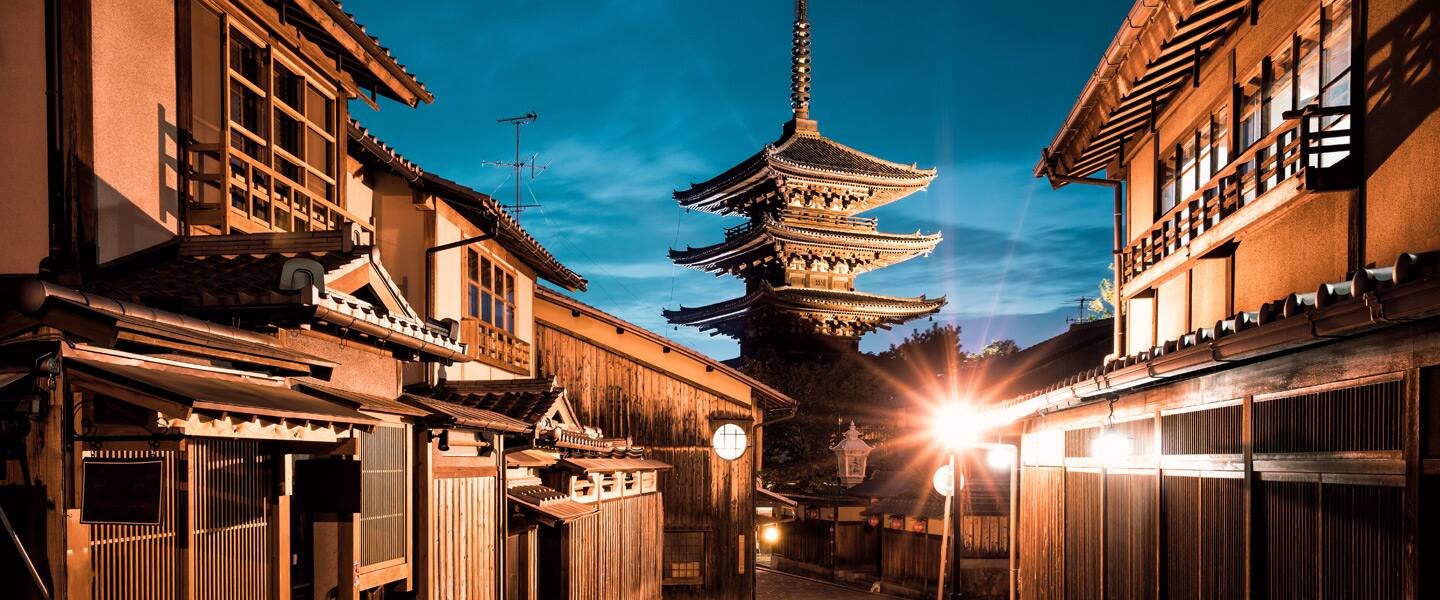 Travel Diaries
Kyoto, Japan
Though only a short bullet train ride from Tokyo, Kyoto feels worlds away. Characterized by serene temples, kimono-clad geishas, wondrous gardens and lavish teahouses, this ancient city offers a glimpse into Japan's mystical past. With over 1,000 Buddhist temples, 17 UNESCO World Heritage Sites and countless cobblestone streets to wander, a visit to this awe-inspiring historical city can be overwhelming. But, as Kyoto will encourage you, it's time to learn the art of Zen—and we've made your journey as peaceful as possible. Discover our top picks of where to stay, eat and explore, plus, the glam packing essentials that will have you ready to say, "Konnichiwa."
Hoshinoya Kyoto
Nestled in a picturesque forest perched atop the Hozugawa riverbank, the magnificent Hoshinoya Kyoto invites its visitors to experience a hidden paradise. A former retreat for Japan's aristocrats, every detail is expertly crafted in this beautifully restored century-old property. The hotel is accessible only by a serene and scenic boat ride, so use the 10-minute trip to admire the vibrant maple leaves, which blaze orange and red in the fall. On the hotel's lush grounds, deer, fox and monkeys roam the property's extensive gardens. Inside, the villa exudes a quiet elegance, appointed with traditional details like gold-patterned wallpaper, shoji paper sliding doors, panoramic windows and artisanal woodwork that capture the rich essence of Kyoto. With new-age amenities like heated wooden floors, a revitalizing spa, morning Zen meditation sessions and digital detox programs, the Hoshinoya is an escape for both mind and body.
Nakamura
Dining in Kyoto can best be described as elaborate and luxurious. As the birthplace of kaiseki ryori (aka Japanese haute cuisine), the city offers no shortage of multi-course dinners, glamorous tea ceremonies and striking visual feasts. At the three-Michelin-starred Nakamura, creative and complex dishes are served in a traditional setting to make for a once-in-a-lifetime experience. Leave your shoes at the door and convene in private rooms characterized by low tables, sunken seating and minimalist décor. A seasonally inspired menu changes often to ensure only the freshest ingredients are used, but expect expertly crafted items like delicate rice dumplings and aromatic Guji fish served with exquisite presentation.
Explore The Temples
Once the capital of Japan, Kyoto is filled with historic shrines and breathtaking architecture. With thousands of picturesque temples to choose from, the best siteseeing approach is to narrow down a list and visit each at a leisurely pace. The goal is not to overwhelm the senses with temple-hopping, but to languish in the serenity of each atmospheric place. Our picks? Take in the striking autumn foliage at Tofuku-ji Temple (built in the 13th century), walk the meditative pathways at Nanzen-ji Temple, explore the famed Ryoan-ji Zen rock garden and visit the iconic Golden Pavilion, whose gilded reflection is mirrored across a surrounding pond.